What's your favorite Christmas movie? 
Is it a classic from your childhood or a predictable romance? Maybe it's a thought-provoking drama, or if you're more inclined to laugh your way through the Christmas season, a comedy about family, togetherness, and all the resulting conflict might be your thing. No matter your preference, you probably cozy up to that movie every year because of one common theme: belonging.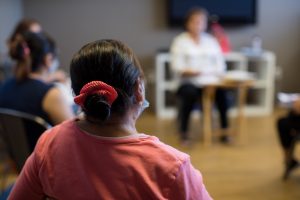 It's been a lonely year, hasn't it? Each of us has had to figure out new ways to belong and new places to go with the people who belong to us. We've had to reinvent belonging! At Hope, our women have done this well.
Belonging has always been confusing for N. Her mom left when she was nine. She never knew her dad. She was passed between family members and homes until she could make a home of her own – and she has. But loneliness and belonging continue to be a struggle, so N is intentional about joining groups and finding places where she can make friends. Hope Women's Center was a great fit for N, and within a few months of her first visit, she had many friends. One day, N didn't show up for her typical classes. Her Hope friends reached out. N said she had unexpected bills and gas money wasn't available, especially since she lived thirty minutes from the center! That didn't deter N's friends. They made a pick up schedule and took turns getting N to and from Hope. This practical display of love overwhelmed N and completely energized her friends.
Love and belonging go hand in hand, making isolation all the more painful. Our women love each other like family and they care for each other with fierce loyalty and selflessness. In spite of this year's challenges, we've seen a lot of good. Community partners went above and beyond. Virtual learning brought us clients who might've never found Hope because of distance, poor health, or lack of transportation. And our clients, many of whom were already living on very little, continued to see God was still capable of caring for their needs. So as we close out the year, we'll focus on the good of 2020 and trust God for an amazing 2021.