We've had another very busy month at Hope Women's Center!  We continue to see new faces walk into our doors, but with all of the many opportunities we have to love and serve these ladies, there also comes a lot of heavy stories.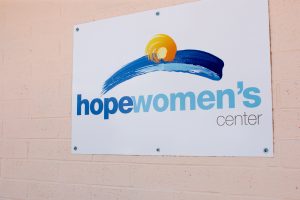 Client R had her grandchildren dropped off at her house because her daughter is going to rehab for drugs. Now with three children in her home, two of them being teenagers, she can't feed them.  In desperation she turned back to her old ways to make money to buy food.  With her addiction to alcohol and the guilt and shame from the choices she has made, it has been too much for her to carry.
Client C was in a mentoring session weeping, her burdens felt so heavy.  "I'm addicted to meth and I hate it," she said.  "I don't want to be like this, I don't want to do drugs but I can't stop.  It goes back to when I was 13 and tried heroin for the first time. My first husband who I married at 16 was very abusive to me, and I later found out he molested our children. I went from that marriage to this one and my husband now is bound by drugs and porn.  My anxiety is so overwhelming that I don't know what to do or where to turn.  My family doesn't want anything to do with me anymore because of the drugs, and I miss my grandson so much.  I just want to hold him and tell him how much I love him.  I hate myself and I hate what I have done to my family."
The Police brought Client J to our center a few months ago because of domestic violence in her home.  Client J was very confused and very fearful.  She didn't know if she could trust anyone.  Yesterday she came back after a short stay in the hospital.  She was still fearful and said it was very hard for her to come in but she promised the nurses at the hospital that she would go somewhere to get help with her alcohol addiction.  She says, "everyone was so nice to me here and I knew it was a safe place for me to come again."  The shame and guilt that she is caring are so overwhelming to her. We love that we get to introduce her to the ONE who can heal her completely – addictions, shame, guilt, and all.
These are just a few of our stories.  There are many more stories and the burdens are heavy.  Isaiah 58:6-9 reads:
 "Is this not the fast that I have chosen: To loose the bonds of wickedness, To undo the heavy burdens, To let the oppressed go free, And that you break every yoke? 7 Is it not to share your bread with the hungry, And that you bring to your house the poor who are cast out; When you see the naked, that you cover him, And not hide yourself from your own flesh? 8 Then your light shall break forth like the morning, Your healing shall spring forth speedily, And your righteousness shall go before you; The glory of the Lord shall be your rear guard. 9 Then you shall call, and the Lord will answer; You shall cry, and He will say, 'Here I am.'"
"To loose the bonds of wickedness," – to unbind, to release from, to free from anything that binds or shackles!
"The bonds of wickedness," –  things that hold us or have us bound. Things like unforgiveness, addictions, past hurts, hate, sickness, doubt, anxiety, fear, grief.
At Hope Women's Center we are here to help them see that they can be set free from all of this!  There is healing through Christ Jesus!  "9 Then you shall call, and the Lord will answer; You shall cry, and He will say, 'Here I am.'"
Because of our volunteers and supporters, we are able to be that light in the darkness by providing faith-based and life skill classes, mentoring sessions, support groups, material resources, food, clothes, and utility assistance for these women and their families right here in our communities!  As our client base continues to increase so does our need for more volunteers and financial support.  Please consider helping us! If you haven't visited our center in a while, come to one of our Journey of Hope events and bring a friend (learn more)!   We would love for you to come and experience firsthand what God is doing right here in your backyard.