The Transformation of Trauma
Pain and peace.
Suffering and joy.
Grief and hope.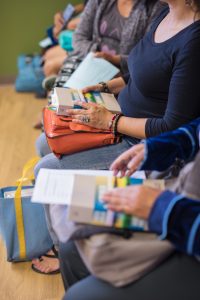 The human experience is often one of paradox. The holidays are no exception. In pain, suffering, and grief, Jesus is still peace, joy, and hope. His presence and perspective allow us to see the fullness of a situation that appears to be void of goodness. When sadness paints the season, He shows us simple beauty. When poverty dictates financial generosity, He prompts creative giving. When loss changes traditions, He comforts us and reveals contentment in unexpected places. Our True Hope says trauma can be transformed.
Despite battles with cancer, several of our women continue coming to Hope regularly. Health care bills limit their finances, surgeries and treatments restrict their mobility, speech, and energy. A single mom tries to process what will happen to her children if cancer defeats her. In the midst of their ominous circumstances, these women model a deep understanding of faith and joy to our staff, volunteers, and clients. The courage, love, and hope of these clients are limitless. 
Sweet N, an elderly client, bakes and prepares homemade tacos for the staff, serving them with a big smile. She has been loved at the center and she wants to bless as she is able for as long as she can. N never complains, but admits to her physical pain when asked. More often than not, she says she is thankful for each day. N's gratitude expresses itself in extraordinary generosity. That's the inspiring effect of  gratitude – it unleashes generosity. Even in the most difficult physical, financial, and emotional circumstances, our clients teach us there is always enough left for generosity.