The Gift of Light and Grace
This season is depicted as brightness, warmth, and light, but this year in particular, these images seem especially important. After so much grief and darkness this year and last, isn't it natural we long for light? Isn't it human to celebrate a ray of hope, a spark of joy, a flicker of kindness?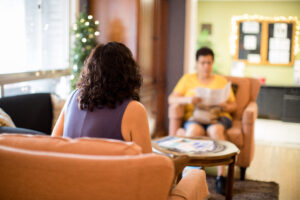 Crisis has a way of magnifying our desire for illumination, small as it may begin. Isolation intensifies our need for another person's warm compassion and presence. Loss and abuse, adversity and uncertainty increase our hunger for God's comfort and goodness. Our women know this well. Fortunately, they know hope well, too. Hopeful people see beyond the present moment and do whatever they can to remain steady and grateful, no matter the circumstances.
Last month, one of our centers received a large donation of Christmas lights. The strands were neatly rolled and placed in the Boutique, so that interested women could use their points to take some home. This seemingly simple donation roused quite a stir with our women! (You might even say the response was electric!) Client Y was one of the women. 
"I lost my mother last year," she shared. "So I didn't do anything last Christmas – no tree, no decorations, and no lights whatsoever. My mom used to string lights in every room of the house during Christmas and it was too hard on me to have another visual reminder that she was gone. I feel like I'm ready to decorate this year, but my budget is stretched thin already. Finding these lights in the Boutique was such a surprise! I'm going to string these lights throughout the apartment for my 2 year old. I'm sure she'll love it just as much as me!"
As we end this year in light and grace, we want you to know that the ways you bless our clients, whether it be through food, donations, time, financial gifts, and yes, even Christmas lights – none of these acts of kindness are wasted. Thank you for extending hope to women and families across Arizona. We wish you a joy filled holiday season and a happy new year!