The heat can kill you.
From "here" to "heat stroke" can take as little as 15 minutes, when the Arizona temps get into triple digits. And children are even more at risk than adults.
But you can save lives — by supporting Hope Women's Center today.  Our "utility assistance program" is a lifesaver.
It's not a handout. Not a giveaway. It's an opportunity for women to earn points toward their utility bill. With each class a mom attends, she earns "Hope Credits" which she can redeem for help with her utility bill. Each class is worth 10 credits — each credit is worth $1. We don't hand the money over to the mom. We pay it directly to the power company, on her behalf.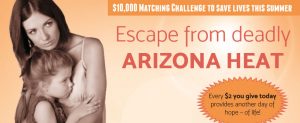 This year, thanks to an incredible Matching Challenge, we have a chance to protect more families from the deadly heat than ever before! A generous friend has pledged to match the funds we raise for Hope Credits this summer, if we raise over $10,000! That sounds like a lot, but together I know we can do it – every gift counts and every gift up to $10,000 has a chance to be DOUBLED!
It's critical. As the summertime temperatures go up, these credits become a lifeline, literally, for mothers and children in Arizona. Six classes … just $60 … is usually all it takes to provide life-giving air-conditioning for a family in need for an entire month.
If just 167 friends like you sent a gift of $60 – the match would be met, the number of Hope Credits we could offer would instantly double – your gift of $60 would go TWICE as far in keeping families safe!
But it's more than just battling the heat. These classes (in comfortable, air-conditioned rooms!) give women the skills, the insights, the tools they need to become strong, self-sufficient moms. They learn budgeting, anger management, and more. They learn English if they need to. They recover from abuse. They gain genuine independence. They find a better life.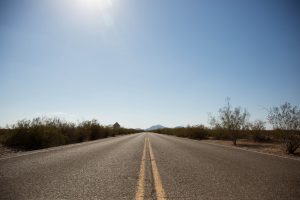 But more and more women need help. They're working their hardest, but unable to make ends meet. And for many, it's not just financial. They may be dealing with multiple challenges — parenting struggles, relationship problems, physical issues.
Not long ago, our phone rang, and a woman I'll call Katie was on the line, desperate. Her marriage had recently imploded. She has no family in the area. She was left to parent five children all alone. Then, to make matters worse, her car broke down. She couldn't get her kids to school. It felt like her world was crashing.
But thanks to the generous support of friends like you, we were here for her. With your compassionate help, we were able to assure her that we would help her make it.
The next day — grasping at this slender thread of hope — she actually risked the cost of an Uber ride — the only way she could make it happen — to get to our Center.
That day was life-changing.
The way Katie describes it today, she was blessed by her time at the Center that day. We connected her with a mentor, and she plunged in to our utility assistance program, taking as many classes as she could. She was like a sponge, absorbing everything she could learn. She was thrilled!
"I had been feeling so alone," she says. "But I was so happy to find people willing to help me and support me through this hard time!"
As you read these words, we're still working on getting her car repaired; but in the meantime, Katie is earning points (both by taking classes and in our mentoring program) that will help her pay for utilities, food, and other household needs.
But your support for Hope Women's Center hasn't simply brought financial blessing into Katie's life. This is about something deeper, something even more important. Something spiritual.  Something beautiful.
"I'm trusting that God will provide," Katie says, "but I'm even more excited about how He may reveal Himself to me through my time at the Center."
It's for moments like this … moments of true life-transformation … that I ask you boldly to give your most generous possible gift of support today. You'll keep mothers and children alive through the heat this summer — but you'll also give them a foundation for spiritual growth.
With your help, we can beat this challenge and DOUBLE the life-saving Hope Credits we can offer to women and their families. Can you give $60, or even more, to provide a whole month of air conditioning for a family in need?
Whatever you can do today, every $2 you give today provides another day of life, health, help and hope! Summer is a killer. Let me hear from you quickly. Thank you for understanding the urgency of the situation and responding ASAP.
Offering help and hope,
Tammy Abernethy
Executive Director/CEO
P.S. Arizona's summer heat can take the life of a little boy or girl. A few "Hope Credits" can mean the difference between life and death for a mother and her children. Please help however you can today. Thank you again!