What does it mean to start over? How do you establish a sense of family or home, status or self when you're in extreme transition, and everything you knew is completely reconstructed? Where can you go to build a trustworthy support network? How will you connect and communicate if language is also a barrier?  
For many in our Hope Women's Center population, these are real questions being asked everyday.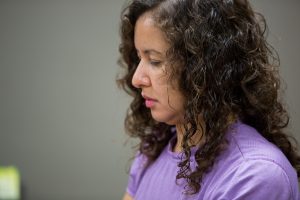 When J legally immigrated to the US with her children, things didn't go as planned. The legal fees for immigration were expensive and finding a job to support her family was no easy task. Being a single mom, securing a home was critical, so J rented the only place she could afford – a shed behind a shop downtown. It wasn't the life she'd idealized, but she and her children were together. And safe. When J had to leave the country to finalize her immigration paperwork, there was fear she might not be allowed to come back. The Hope clients, volunteers, and staff prayed over J, that her paperwork would be processed smoothly and she would return safely. It was a day of celebration when J came through the door a few months later! She was safe, and she was home.
We have a policy at Hope: we welcome any woman who comes to our door in need. We believe God's hand lovingly guides hurting women in all walks of life to us, and remembering this truth keeps us mission-minded and grace-focused.
How is the Lord leading you in loving others and fulfilling your unique purpose? The experience God's given you could become a means for inspiring clients like J who are building a new life. Maybe you have a skill you could teach or a DIY you could demo. We're open to your clever talents and ideas! Send them to info@hopewomenscenter.org or contact your local Hope Women's Center.