We're still here helping women & families in need
There was a moment — you won't remember it — but you were there… in the deepest, darkest days of the COVID-19 outbreak.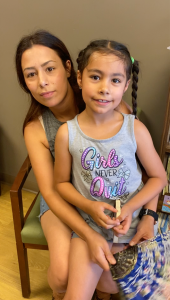 Samantha was in trouble. I want to protect her privacy; I won't tell you her whole story. But I can tell you this, for sure: She and her little ones were at risk.
They needed food. They needed clothing. They couldn't even pay their utility bill. They needed a friend. And there you were.
Your support of Hope Women's Center came just in the nick of time. We were able to meet their need. Keep them together. Keep them going. Give them hope.
Samantha's face … I wish you could have seen her, as she said these words: "I just want to say thank you very much for all you did for us here at Hope, for all the food, the clothing and the utilities help. It means so much."
She's weary, but she's somehow strong. God's love — expressed through your generosity — is empowering her. "Thank you from the bottom of my heart!" she sighs.
She's not alone. A little girl named Anya is experiencing the simplest of joys: "Thank you for giving us mac and cheese!" she cries. She's sitting on her mother's lap. Her mother, Amelia, is grateful for something more practical. "We're very thankful for the people who have made donations to help my family and other families with toiletries," she says quietly. "Thanks so much."
You offered her family their only hope of dignity.
We often refer to Hope as a safe place. So do our clients. The only way to be a safe place is to be a place full of safe people who teach the qualities of safe people by showing those qualities in every interaction. So for every meal, essential item, class, and service we provide women at Hope, reflections of grace, gentleness, patience, and kindness are being offered, too. That's where hope comes alive. That's when change becomes possible. 
Sandra didn't know how she could feed her family. The pandemic economy was squeezing them dry. Thanks to your support for Hope Women's Center, we could be there for them, providing big bags of donated food. "I just want to say thank you," Sandra says. "You've helped my family (and others) who have had a hard time finding food during this time."
WE'RE STILL HERE. Thanks to you. Over the course of this entire awful pandemic, Hope Women's Center has never closed its doors. We're still helping women and families in need. Your support makes it possible.
Our volunteers, donors, and community partners are still the heartbeat of our work. They have always been, and they will always be!
Of course, we missed serving alongside our friends day by day. And we have continued to pray for you, and for everyone impacted by the effects of the pandemic.
But now, with the "stay at home" order lifted, we are delighted to be resuming our programs — of course, with a "different but better" model….
We're implementing CDC guidelines for safety procedures and social distancing across all of our centers.
We're resuming health-safe versions of our mentoring programs, in-person classes, and pregnancy testing and support.
We're continuing our online classes and remote mentoring, crisis referrals, and more.
I know the past months have been a difficult time … but we are grateful that we have been able to continue serving women and children in crisis without pause, this entire time. All because caring people like you continued to give, generously and compassionately.
Today, I'm asking you to give again, because the ministries of Hope Women's Center are critically important, and proven-effective.
The agonizing crises that compel women to turn to us for help … those crises don't "hit the pause button" for a pandemic — or anything else.
Our work is still urgent. It is essential.
So I ask for your generous help again today. Please pray about what you can possibly give today. I know many have been set back by the pandemic economy. But for those of us who have been blessed enough that we can still give, this is the moment to give. Women in our community need us. Children are at risk. Your gift of compassion today will make a beautiful difference.
I hope to hear from you soon. And I pray you are well. Thank you! God bless you!

Offering help and hope,
Tammy Abernethy
Executive Director/CEO
P.S. Every time we help a woman in need, you're there. Your generosity empowers us. THANK YOU for whatever you can give today!