Something exciting is happening at our centers. Hope women, past and present, are saying 'thank you'. Some are calling to let us know how Hope blessed them. Others are stopping in after work to update us on the progress they're making. Many are paying it forward, because they know another woman is facing something they've faced before, and they want to be part of the hope she so desperately needs.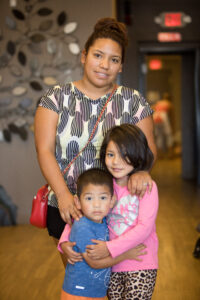 G received a Valentine's bag from us last month (provided by a church partner) and the words in the card moved her to tears, so she called us to say how much those words meant to her.
We connected C with an organization who helps women with the citizenship process. She stopped in recently to let us know how helpful the organization has been and to share the exciting news that she is in the final stages of the citizenship process.
B wasn't even going to come to Hope because her teenaged children are so dependent on her, she usually can't get away. She came anyway, and sure enough, she received a call from home after one class. As she was leaving, Hope staff gave B a bouquet of recently donated flowers. B returned the next day and shared, "When I got that phone call yesterday, I thought, 'That's it. I'm done trying to take time for myself.' But then you gave me the flowers, and when I saw them this morning, I was encouraged to keep trying to take moments for myself because I feel so much better when I do. I need to be here with other women, so thank you for reminding me to keep coming back!"
Y brought donations to one of our centers. She wrote a small note on her donation slip: "Paying it forward! Thank you for the help 21 years ago!"
You know why we love hearing stories like these? Because each one of us, no matter how we grew up or where we are now, knows what it feels like to need a hand. We know what it feels like to be seen or encouraged in a season of overwhelm. We know what it feels like to have someone who knows the journey come alongside us. We remember the people in our past who helped us take that last step toward the finish, the people who said, 'It's going to be ok', the people who made that one gesture that opened the opportunity or transformed our outlook. 
And you know what we said to ourselves when those people came along? "One day, I'm going to give back." Here you are, giving back, and as a result, gratitude is growing strong in the women you're helping. Many of them are looking forward to the day when it's their turn to extend help to someone. Many are already giving back in whatever way they can. For some, giving back starts with 'thank you'.