Mother's Day, Trauma Awareness, and Mental Health Awareness make May a noteworthy month. These three observances are distinct focuses of Hope Women's Center's mission, this year in particular. During the COVID crisis, we've innovated to continue our mission of supporting our women's holistic needs. We've fed thousands of mothers and their children. We've helped women through the trauma of domestic abuse by listening, loving, and finding them a safe place. We've encouraged women through new mental health issues brought about by a global pandemic. 
But we haven't done these things alone.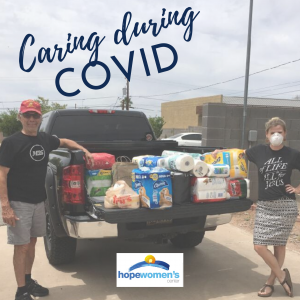 We've been blown away by the generosity of our community partners – new and old. This past month is brimming with stories of kindness, selflessness, and compassion. From donation drives to lunch bags, God's faithfulness has been evident through the faithfulness of churches, businesses, partner organizations, civic groups, individuals and families. So many have stepped up to care for our women and families in a capacity we never imagined.
This continued care and compassion has made a deep impression on our women – like O. When our parenting, anger management, and abuse prevention classes were moved online, it didn't hinder O's hard work toward reunification with her children. During a lesson recap call with a Hope staff member, O answered the lesson questions and then paused. "I want you to know how much it means to me that you've never given up on me," she said. "This has been really hard for me, but you make me feel like I can do this. You've always believed in me and hoped with me."
We've had to physically distance ourselves from clients, but we haven't distanced ourselves relationally, emotionally, or spiritually. By God's grace, we've continued offering loving support and true HOPE.