So many of our Hope clients grew up with a skewed sense of love, and their endless search for 'real' love is a story of heartbreaking chapters – conditional love, self-seeking love, love lavished until the arguments began or the addiction worsened. Our clients have different stories, but most agree: Love is painful.
O and her children sleep in their car. They have little to eat. O called a few agencies and even her church only to hear, "No. We can't help." It's a hopeless situation in many ways, except one – O and her children are no longer being abused. Living in a car and out of an abusive home is what hope looks like for O and her children.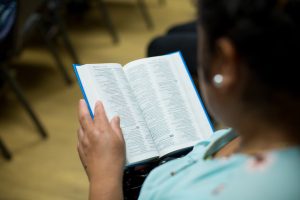 When O came to Hope Women's Center, staff helped to get her children enrolled in the homeless program at school. O enrolled in Hope classes, coming every day the center was open. O is waiting for a place to call home, but in the meantime, she says, "This place is very special. Just knowing I can come here to shower, do a load of laundry, take classes, and eat a hot meal is such a blessing."
At Hope, we show love by being the kind of love that 'never loses faith, is always hopeful, and endures through every circumstance'. That means when a woman or family comes to us in impossible crisis, we don't trust in our own strength to meet her needs, we do what we can and trust in God's strength for the rest.
Opportunity for Impact
The story of O and her children is not uncommon. When a family flees a domestic violence situation, it does not always mean they have somewhere to go. Shelters don't always have space, and although some will take children, others will not. If issues like domestic violence and families without a home tugs at your heart, would you consider giving to Hope Women's Center? The city of Maricopa has vulnerable populations waiting for our new center to open later this year. Your gift would help hasten necessary renovation so we can open our doors. Click on the following link to learn more about Hope Women's Center and to make your online donation: https://hopewomenscenter.org/give-now/. Thank you!