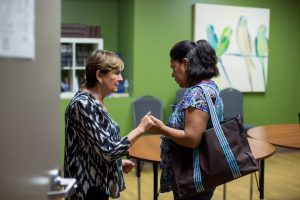 Hope Women's Center is affectionately referred to as a 'hospital' by many of our clients. We're not a medical facility, but our holistic focus on each woman's physical, emotional, and spiritual needs makes our 5 centers wellness centers – places to heal and become whole. Our clients come to us in crisis, but their stories of who they are, what they come from, and where they've been are stories of trauma and pain that started early. They experienced cycles of adversity long before their current crisis, and usually, well before adulthood.  
When a person experiences 4 or more Adverse Childhood Experiences (ACEs), they're statistically at a higher risk of physical health problems. Risk of chronic diseases such as cancer, heart disease, COPD, lung disease, and diabetes are 2-4 times higher for older adults with 4+ ACEs. What does this mean and what can Hope do? Our classes, mentoring program, and support groups are designed to help women not just manage stress, but confront it to promote healing, eliminate it by creating boundaries, or respond to it with healthier behaviors.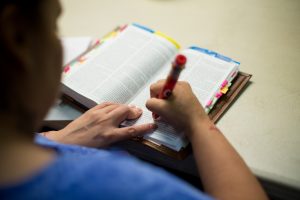 Celebrate Recovery is a faith based, 12 step program offered at a few of our centers. Our clients like the support and accountability of being in community, and they need it – the program is hard work. Step 5 – the confession step – seems to be especially hard. J said it took her weeks of coming to the paper, sighing, and walking away without a word. She resisted writing out the ways in which she'd wronged others, but she was ready for the healing of being forgiven. She finished the step, but the morning she was to meet with her sponsor, J was dealing with urgent health issues and wasn't feeling well. She went anyhow. J said that in the humility of confession and in the presence of someone who loved her no matter her past, she could feel a weight lift from her shoulders. "It was transformational! I've felt lighter for over a week – despite my health issues. Even my family noticed. After my meeting they said my expression had changed completely!"
Stories like J's, stories of transformation found in the mercy and grace of Jesus Christ, are why we do what we do. What a powerful statement confession is against the lesser power of shame! Lifting shame by being vulnerable is a big part of Spiritual healing – at HOPE and at home. No one grows in hiding. And no one grows alone.
The mission of HOPE doesn't grow alone either. Because of partnership with individuals, businesses, community groups, and churches who are willing to pray for us, support us financially or with donations, and become our hands and feet as volunteers, HOPE is being extended further. Lives are being changed – one woman, one family, and one community at a time.