Hope for the Homeless in Arizona
How Hope Women's Center is Helping the Homeless in Arizona: S's Story
S ran her fingers through her hair as she approached the door of Hope Women's Center. She couldn't remember the last time she'd showered. Her heavy backpack had left stains from sweat and long days in the sun. Her shoes were worn through. How many miles had she walked since she'd left home? Life had always been hard, but homelessness was harder.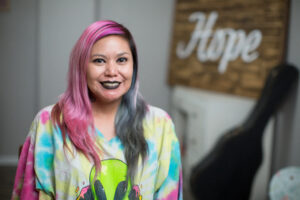 Reaching for the door, S hesitated. They won't want you here. Nobody wants you. They were the same words that played like a loop in her mind, the same words her mom said to her the day S left home for good, just a week before her 18th birthday. She turned to go, then stopped. Her phone was dead and she needed to check her messages. She needed some water, some food, a shower. A woman at the gas station had told S about Hope and said they could help. A few minutes out of the heat will do you good, S told herself.
The woman who answered the door was smiling and her voice was kind. "It's hot out there. Come in and I'll get you some water." The center was filled with women of all ages and backgrounds, most of them talking together and laughing. What is this place? S couldn't remember the last time she'd been around so many people and felt this safe. Everyone seems so…happy. 
The woman who greeted S at the door returned with a bag full of cold water bottles. S took the bag, but didn't speak. "I'm the Center Manager," the woman said, "Now tell me, what brings you to Hope today?"
"I lost my phone charger…" S's voice trailed off. The Center Manager rummaged through a bin of chargers and handed one to S. She plugged in her phone, took a breath, and looked up timidly. "I left home months ago," she whispered. "Someone told me you could help with clothes and a shower. Is that true?" Once again, the Center Manager smiled warmly at S and nodded. "We can help."
Homelessness in Arizona
Arizona is among the top 5 states lacking affordable housing options for residents living below the federal poverty line. This, in addition to recent inflation and other economic stressors, has magnified the homelessness problem over the last two years, causing a 35% increase in homelessness in Maricopa County alone. Women living on the streets are especially vulnerable in hot summer months. They are looking for a safe place where they can receive the simple things – water and food, a shower, a fresh change of clothes, and the respite of an air-conditioned space. At Hope, women also receive kindness, compassion, and a reason to hope. Our centers truly provide help for today and hope for tomorrow.