Every person on the planet has been touched by the current crisis. It's changed the way we live, work, and enjoy relationships. It's ignited our sense of concern, it's heightened our awareness of distancing from others, and it's caused us to stay behind closed doors. How do we heal from an impact that deep?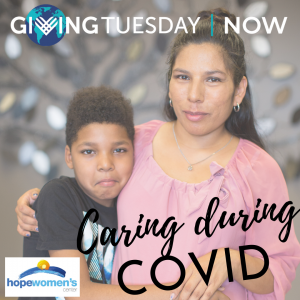 This Tuesday, May 5th, #GivingTuesdayNow will unite the globe in generosity. #GivingTuesdayNow is a new global day of giving established as an emergency response to the significant need caused by COVID-19. 
The premise is simple: generosity has the potential to heal. We believe that's true.
#GivingTuesdayNow is a day to show kindness through giving to community causes you're passionate about – causes like Hope. Will you join this wave of generosity by supporting Hope as we care for those in our community who are hurt, scared, and incredibly burdened by the current crisis?
We think of Y, a woman who has suffered from depression for most of her life. Being isolated was bringing her to the lowest point she'd ever experienced. She grew up being humiliated and mistreated daily and hasn't reached out to family for many years. She had no one to talk to, until one day, she saw an ad for help. She called the number. The social worker on the other line was compassionate and knowledgeable. She referred Y to Hope Women's Center. Y didn't hesitate to call, and because Hope's centers have remained open, someone was there to answer Y's call.
Y is now a part of our virtual support group – a service we created when stay-at-home orders were made. Y is grateful to be included, to be seen and heard during a time when she feels invisible. She looks forward to meeting her new friends in person, and we hope that day comes soon, but in the meantime, Y is smiling again.
Your generosity is connected with every single act of kindness Hope is able to extend women and families during this time. Your generosity is a food box, it's an answered phone call and listening ear, it's a virtual class or support group, and it's emergency help for a woman in an unsafe home.
This Tuesday, May 5th, please join the kindness movement of #GivingTuesdayNow by giving toward the healing work Hope is doing as the hands and feet of Jesus. Your gift can be made at https://hopewomenscenter.org/give-now/.