Finding Hope in the Cycle of Abuse
"This is My Safe Place"  – Finding Hope in the Cycle of Abuse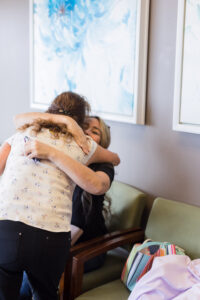 E's life was very complicated when she first came to Hope Women's Center. She had just left an abusive relationship and was struggling with life as a single mom. Hope's life skills classes and parenting classes in addition to the one on one mentoring helped E become stable and secure. The Hope programs provided much needed job assistance and material resource support.
A few months later, E found herself back in an abusive relationship. Hope was the first place she thought to go, but she was worried and embarrassed to come back. Client E thought, "How could I be in the same situation again?!" She gained the courage to walk through Hope's door and the volunteers and staff greeted her with open arms. E felt so loved and cared for. "This is my safe place," she said. She expressed her determination to break the abusive cycles she felt trapped in and create a better future for herself and her children. 
For some, abuse is familiar and often excused as something else. Many of our clients grew up with abuse. Consequently, learned to excuse abusive patterns as 'personality, anger issues, or just an occasional part of being 'in relationship'. When women come to Hope, they find the education, support, and compassion they need to recognize abuse, and when the time is right, decide what to do about it. Your partnership helps make Hope a safe place for women who are hurting – no matter the circumstance. Thank you for giving us the opportunity to tell women they are valued and that there is hope.
About Hope Women's Center:
Hope Women's Center is a faith based, trauma informed, non-profit organization that provides vulnerable women and teen girls with education, mentoring, and support. Our mission is to engage, encourage, and equip vulnerable women and teen girls by providing support for their physical, emotional, and spiritual needs.