Facing Crisis and Responding with HOPE
Hope Women's Center's mission to encourage women and teen girls in crisis is going strong, even if it looks different this week. We've temporarily suspended our classes to honor social distancing guidelines and we've shortened our hours, but Hope remains open for crisis mentoring, community resource referrals, and of course, material assistance.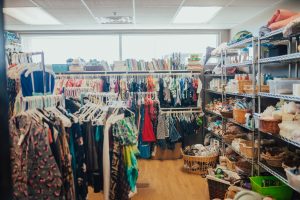 W was relieved to shop in the boutique. Having her kids home from school means food disappears quicker. She purchased peanut butter and jelly and kept things light by quipping, "There's no bread to be found anywhere, but we'll make PB&J tortillas!"
K, a mother of two little ones, was blessed by one jumbo pack of baby wipes. "I can't afford to buy large amounts of necessities, and the shelves were empty by the time I had money for groceries. I'm so glad for these wipes – you just don't know!" 
Our five centers typically serve over 400 women a month. This week, we helped a single mom who – like many – can't go to work. Lost income means she can't feed her family. We helped connect a suicidal teenager with resources and we called shelters for a woman in a rapidly escalating domestic violence situation. Hope is walking alongside women through individual crisis and through the COVID-19 crisis. Crisis is always uncertain and as COVID-19 paints uncertainty for everyone, we see firsthand how poverty adds an extra dimension of insecurity for the women and families we serve. 
Please pray for our women and families. Pray as we extend hope to those whose emotional, spiritual, and physical needs are heavier because of necessary closings and unstocked stores. Pray for us as we explore virtual educational programming for our women and families if classes cannot resume in the next few weeks. Pray for us as we trust Jesus in the uncertainty, because in times when we don't understand, we must learn to trust Him more.
And if you are financially able, please consider donating to help us continue our mission.  Learn more about the Arizona Tax Credit, or give a donation of any amount through our website:  https://hopewomenscenter.org/give-now/.