If this was a typical year, we'd be gearing up for our Night of Hope fundraising gala, but as all of us know – it's been anything but a typical year. We've postponed our gala until 2021, but our mission to engage, encourage, and equip women and teen girls in any difficult life situation has not been postponed. Our work of walking alongside women in crisis has not been cancelled. Our doors are not closed. What does this mean? Hope's need to raise funds cannot be postponed!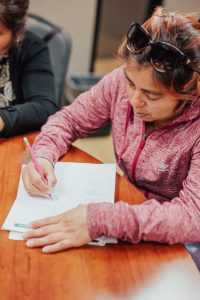 Our innovative team is creating smaller fundraisers for the fall, so be on the lookout for details and dates. We assure you, these fundraisers will be fun, so maybe this is the year you invite friends to join the mission of Hope. Tell them why you care about healthy women and families. Share the transformation stories happening at Hope, like E's story…
E has struggled with homelessness, drugs, and mental illness since she was young. She returned to Hope Women's Center after a stay in rehab, but she was noticeably unwell. Most classes, she would rock in her chair, but one day, she began crying uncontrollably. The teacher brought E to a mentor and they began meeting together weekly. The transformation in E has been extraordinary! She hasn't gone back to her abuser, which was her pattern for years. During class, she speaks with confidence. E recently told us she has a job interview and she couldn't have been more excited! Seeking employment is a phenomenal step for E, evidence of growth and healing. E says, "This change in me has been difficult – but I'm doing it!"
Change is difficult. Everyone has been reminded of that this year. Most of us have the support of caring friends and family, churches and neighbors. They encourage us to persevere, they pray for us, they point our focus back on Jesus. But many of our clients face change, loss, and difficulty alone. We keep our doors open so that women in crisis can find love and support when they need it most.