Celebrating Women at Hope Women's Center
Celebrated for over 100 years, International Women's Day is a day designated for Americans to reflect on the extraordinary accomplishments of women. At Hope, that's something we get to do EVERY DAY and we are mighty thankful to do it. Our women have profound insight, they've overcome unimaginable obstacles, and through it all, they continue pursuing personal growth. All of this with joy and hope!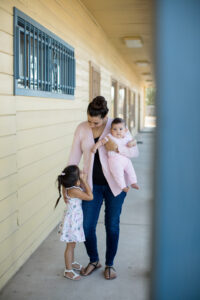 During support group, H was telling the other women in the group about the parenting class she was taking. "You need to get in on this class!" The other moms were interested and wanted to know all about it, so H showed them the workbook for the class. G held the book, and leafing through it said, "My husband and I talk a lot about how we're going to raise our two little girls. How do we help them avoid the stuff we fell into? Both of their parents are recovering addicts, you know? I'm proud of how far we've both come, but I don't want my girls to have to go through recovery. I need parenting classes like this one. I'm prepared to take every parenting class so I can give my girls the tools they need for making good decisions."
G knows recovery is the process of day by day diligence. She knows parenting demands the best of her and she's invested in supporting her girls throughout every phase of growing up. But G may not realize she is changing history. She is not simply recovering from addictive behaviors, she is determined to break these patterns for good. By securing a better future for her girls – a future in which they are prepared to respond and make choices based on a broad understanding of themselves, what they want, and even what they want for the world around them – G's changing history for generations to come.
Make sure you follow us on Facebook and Instagram! We'll be featuring stories and stats all month related to Women's History and the impact our women are making every day.