DCS, Arizona Family Reunification Month, and Hope
Here are a few facts* from DCS on Arizona children and family reunification:
50% of children who enter DCS care in Arizona are between the ages of 1 and 9 years old.
35% of all Arizona children in DCS care will be in placement for more than two years.
Of Arizona families with a DCS case, 51% will reunify when their case is closed.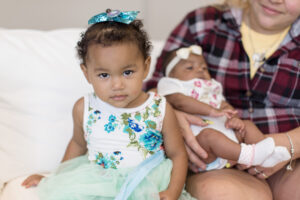 In support of the Arizona families who commit to the long and challenging process of reunification, Governor Doug Ducey proclaimed June as Arizona Family Reunification Month. At Hope, we celebrate these families, too. Right now, we're celebrating J.
J's Story
J's story has the best of outcomes. She applied to Hope's maternity home, pregnant with her sixth baby. Because of DCS involvement in previous years, J had lost custody of her first five children, but she'd turned a new page since then. J was on medical assisted treatment and months into her recovery. She was avoiding unhealthy people and places, staying clean, and getting help from her support network. She was hopeful about starting over and becoming a mom.
After settling into the maternity home, staff connected J with Hushabye Nursery. They helped educate her on what to do after delivery, how DCS would proceed, and how she could best advocate for herself and her baby. After delivery, Hope got J and baby transferred from Camp Verde to Hushabye Nursery, where J's baby received a week of care. Afterwards, DCS intervened, but in a few days, baby was returned to J at Hope's maternity home, where baby and mom continue to live.
Today, both are THRIVING! J is receiving postpartum services through Women's Health Innovations, as well as emotional support and parenting education, and she has a job that allows her to bring her baby to work. J's story is proof that walking alongside women results in significant transformation – not just for mom, but for generations to come. Thank you for walking alongside us. It's incredible what we can do together.
*Statistics from the Arizona Department of Child Safety, Reporting for July-December 2021