An Abusive Relationship and Finding Hope
D's Story
It was just an ordinary Tuesday at Hope Women's Center when D and her job skills coach sat down in a mentoring room to run through a mock job interview. D got settled, took a look around, and without warning, she started to cry. "These are happy tears," D told her career coach, who handed her a box of tissues. "One year ago," D began, "I came into this same room for the first time. I was in an abusive relationship, but I didn't call it that. I had no confidence and I thought my fiance's abuse was my fault. 'Maybe if I could do this, or change that, or make less mistakes, we'd get along better…' Those are the thoughts that were always running through my mind. " D shook her head and paused.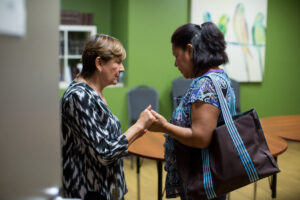 "I'd left him several times already, but every time, he convinced me to come back. Then one day, a neighbor told me about Hope and all their services. It sounded too good to be true, but after a really awful fight with my fiance, I decided to check it out. It was in this room…" D looked around and teared up. Her career coach placed a hand on her shoulder. D cleared her throat.
"A mentor listened to me in this room. She listened as I rambled in my confusion. She listened as I defended my fiance's outbursts. And she listened as I confessed I'd completely forgotten who I was. Not once did she tell me to leave. Not once did she make me feel like I was stupid for not knowing what to do. Instead, she asked if I was ok. She told me I was valuable and loved. She walked me through the power and control wheel, and that was when I recognized the abuse cycle of my relationship. It changed everything. I went back home that day, but I came to Hope every week to meet with my mentor. A few months later, I left my fiance for good. And while I was in the shelter, my mentor called to check on me! I came back to Hope as soon as I could." 
D took a deep breath and smiled. "Now look at me. I'm practicing for a job interview and feeling confident about who I am. I thought I was hopeless, but thanks to this place, I've found TRUE HOPE."
Domestic Violence Awareness Month
October is Domestic Violence Awareness month, and at Hope, we turn our attention to the many women we serve who are experiencing domestic violence, who have left abuse, or are figuring out how to leave. For the women not quite ready to call their relationship 'abusive', we turn toward them, too, eager to listen, support, and over time, plant seeds that let her know she is worthy of respect and love. Your partnership helps make Hope a safe place for women who are hurting – no matter the circumstance. Thank you for giving us the opportunity to tell women they are valued and that there is hope.