A Safe Place – Hope Women's Center
Needing a Safe Place
Having a home, a cool and safe place, is a blessing so easily taken for granted. Sixteen-year-old A and her infant daughter K knew this all too well. After being kicked out by the young mother's parents, they lived cramped in a car which provides little privacy and less safety. Too many women like A know how peace and comfort can be shattered and stolen away in a moment.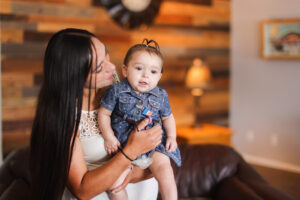 After a few months at Hope, A wept as she shared her story of abandonment and one abusive relationship after another. "I felt so bad and had no self-esteem or confidence. I didn't know what relationship boundaries were before I came to Hope, so how could I have a chance at healthy ones? Before the Boundaries class at the center, I had stopped hoping for a relationship where K and I would be safe and loved. While I was learning how to build a good relationship, the ladies at Hope became our family and our home."
A survivor of abuse herself, A shared her fears that her baby would suffer the same evil. Through counseling, prayer, and classes at the Center, she learned that safe and loving relationships need boundaries like a safe home needs solid walls. HWC helped A become the woman and mother she wanted to be. "Our lives were changed by the women at Hope. I have the courage to set and keep boundaries and the hope for a loving relationship. I am a new woman because of Hope!"
Hope
A's life is unique, but her story is familiar to so many women. This world can be dark and difficult to navigate, but there is always hope. At Hope Women's Center, our clients find compassionate mentors who walk alongside, encourage, and teach them life and relationship skills. Women who leave Hope with courage and support are the same ones who showed up lost, scared, and broken.
More than offering a safe place and a shoulder to cry on, Hope clients discover their self-worth and build their inner strength, essential tools for successful, healthy, and joyful living.