2021 Trend: Women Come Back
We noticed a trend as we compiled Hope Women's Center's impact numbers for 2021. It's something we're already aware of, something we notice day to day inside our centers, but the numbers give proof. 
What's the trend?
The women who find Hope, come back.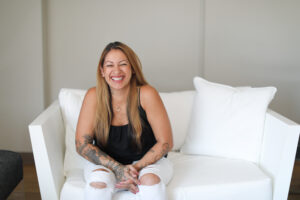 The woman who visits Hope for diapers, comes back for mentoring. The woman referred to Hope for parenting classes, comes back for postpartum support group. The woman who comes with a friend, is the woman who makes a crisis counseling appointment, attends literacy and job skills classes, and one day, she is the woman with a mile-wide smile, sharing with the Hope team that she got the job. 
The women deeply invested in changing their lives for the better are the women who stay, which means the small ways we build trust with our women is working. The culture of safety we nurture in our centers is evident. 
The hope we extend is real. 
After receiving an emergency food box, C came back to Hope the next day. She was carrying a bag of food box items she wasn't able to use. "I have food allergies, so I shared some food with my neighbor, but I don't want anything to go to waste.  Too many families are facing hard times."  C shared a little about her life and what it was like to need help after so many years of taking care of things herself. The Center Manager listened and told C about other Hope programs and classes that might interest her. C was excited and she's come back to Hope every week since.
But C, like many of our clients, almost always comes to Hope with something to give. Whether it's food from her food box or information about other community resources, C is intent on giving back while she receives a little help.  "I believe that even in this hard place I'm in right now, I still have something to contribute, and everyone here makes me feel that way, too. It lifts my spirits to give and receive. I'm so thankful for everything you do here."
Another wonderful thing about women who find Hope? They become the women who extend Hope to others. Hope women know they are loved and valued, so they receive and reciprocate, sharing what they have, as well as who they are.