Camelback Motor Show Registration
100% of the $25 tax deductible registration fee will go directly to Hope Women's Center.
IMPORTANT! READ BEFORE YOU REGISTER
Only 120 spots are available for this show! Register Now. Your $25 (per car) registration fee is tax deductible!
This show is an ALL GERMAN marque show, non-German manufacturers and kit cars will NOT be accepted. See list of accepted manufacturers below. There are two categories this year. The general show, 1985 and earlier, and late model (rare) exotics, 2010 - 2020. See list of guidelines for late model cars below. If you register a car that does not meet the guidelines for this show, it will be rejected and the $25 registration fee will not be refunded. Registration closes when the 120 spots have been filled, or no later than October 17, 2019.  Should you have any questions please email us by clicking the link:

info@camelbackvintage.com

 
1985 and Older Makes: Audi, BMW, Mercedes-Benz, Opel, Porsche, VW, and all former German marques such as Messerschmitt, Auto Union, NSU… For the 
2010 to 2020 models, all cars in this category 
must be pre-approved
. Heavily modified cars will not be considered. Please submit your request here:
info@camelbackvintage.com
A minimum $25 tax deductible donation will be required for each vehicle you register. 100% of your donation will go directly to Hope Women's Center of Arizona. You will be sent a registration receipt that you MUST print out and bring with you when you arrive at the show. If you forget your receipt you will be instructed by an attendant to pull out of line and have your registration validated. This receipt will also have a number on it for the Hagerty Youth Judging that will take place during the show. If you would like to register your child, relative or friend to be a Hagerty Youth Judge please send your request to

info@camelbackvintage.com

 
You may arrive for the show no earlier than 1:30PM and no later then 2:45PM. The lot will be closed to all traffic prior to 1:30PM and at 2:45PM and reopened again at 6:00PM. Please be courteous and do not exceed the 25 MPH speed limit on Stanford Drive. Should you not heed your speed, you will more than likely get to know one of the exemplary officers of the Paradise Valley Police Department prior to your arrival.
Paradise Valley Police and other security will be on-site throughout the event to direct traffic and make sure this show goes smoothly. No movement of cars will be permitted between 3:00PM - 6:00PM unless there is an emergency. All cars must remain off during the show. If a car needs to be moved during the show times, you must receive prior permission from event staff.
Restrooms and outdoor seating will be provided by Camelback Bible Church. You are requested to follow all directions given by event staff or Paradise Valley Police.
NO UNAUTHORIZED SOLICITATION, ADVERTISING, SELLING OF CARS OR ANY OTHER MERCHANDISE WILL BE PERMITTED ON CAMELBACK BIBLE CHURCH PROPERTY. REGISTERING YOUR CAR DOES NOT GIVE YOU AUTHORIZATION TO SOLICIT, ADVERTISE, OR CONDUCT SALES. SECURITY WILL ESCORT ANYONE IN VIOLATION FROM THE PREMISES.
Only registered vendors or sponsors are eligible to distribute information or promotional materials. If you wish to apply as a vendor or sponsor,  please submit full details for more information and eligibility to

info@camelbackvintage.com

 
Thank you for your interest in being a part of the Camelback Motor Show - Deutsche Auto Fest 2019
100% of the $25 tax deductible registration fee will go directly to Hope Women's Center.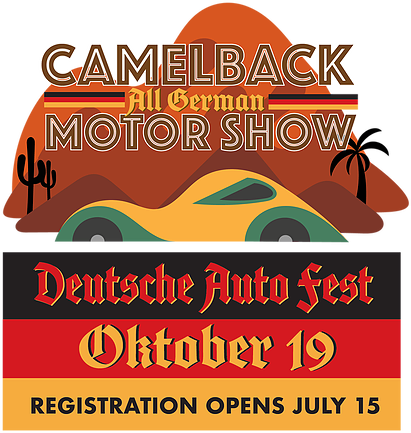 We seek to build trusting relationships with our clients through ongoing mentoring and support groups, through participation in our Education Program and through other community outreach events.