G. K. Chesterton once said, "The greatest of poems is an inventory."
When we review a year like 2020 and see the services, programs, and hours given in spite of stay-at-home orders, safety precautions, and national unrest, we don't see a list of numbers. We see poetry. We see good news.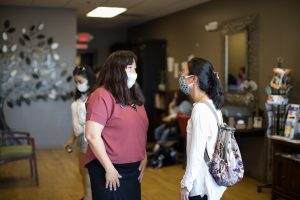 In 2020, Hope Women's Center provided 19,000 meals and food items – more than any year before! We served over 1,100 clients, both in-person and virtually. These women participated in almost 47,000 opportunities, including over 17,000 class hours and nearly 2,900 hours of mentoring. And 515 volunteers gave over 9,600 hours of their time to help us get the good work done.
Our women suffered increased hardship last year – but Hope was there. Women were isolated at home, but Zoom classes and phone mentoring meant Hope was there. Women had school-aged children at home, eating the food and using the toilet paper, and the grocery stores didn't have enough to go around, but Hope donors gave and gave and GAVE so that Hope could BE THERE for women and families in need. Hope was multiplied.
Yes, when we look at the inventory of 2020, we are grateful. So many hands and hearts helped, and as a result, women didn't have to face uncertainty alone.
In 2021, our vision is that 'Hope Runs Deep'. We want to provide for physical and emotional needs, and we also want to provide for the spiritual needs of our women. We think of C who was coming to Hope "mostly to earn points and shop", as she says. But C felt loved at Hope, so she kept coming back. A year later, her story is different. "Hope is like my spiritual vitamin," she says, "I'm here because of the spiritual learning. I need it."
We want our women to experience deeper healing and deeper transformation like C, this year and for years to come.