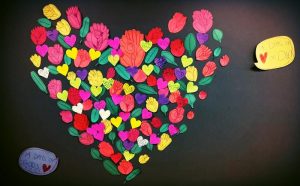 February is the month we celebrate LOVE and at each of
our centers
we help our women focus on the LOVE God has for them. For many of our clients, it's the first time they have heard how precious and valued they are to Him! That God's love for them is boundless and in Him there is HOPE to overcome the hurts of their past and the barriers they face for their futures.
On Valentine's Day in particular, we love to shower our ladies with flowers, treats, and notes to remind of them of God's love for them and OUR love for them! What joy we have in serving each day and watching the transformation that happens in each life God brings to our centers!
Listen to a few of the testimonies of the work that is happening in their lives:
"If it wasn't for the mentors who've listened and given me Hope over the years, I would have withered away." ~ Jill
"It is wonderful how you bring Hope to life at Hope Women's Center. I am so grateful for the generosity and benefits". ~ in a letter from a domestic shelter, written by Mariah
"I'm blessed to have found HWC. I'm in classes, studying the Bible, & women are praying with me for my marriage!" ~ Rae
"My car isn't working, so I told my boyfriend he needed to get me to HWC today for my class. I need this hour and the support I receive from the women here!" ~ Meg
"I first came to HWC a few years ago when I was pregnant with my son. When I found out I was pregnant again, I was so glad you were still here! You've helped me so much." ~ Gabriella
"I divorced from an abusive husband, then got myself into another abusive relationship. But because I was coming to HWC, God helped me see the abuse and I was able to get out safely." ~ Raina
"When I first came to HWC, I was overwhelmed with the struggles in my life. After meeting with a mentor, I began to feel there might be Hope for my situation. Now I come to HWC almost daily. This center means so much to me." ~ Erin
God is doing great things in women's lives at Hope and our centers are possible because of friends like YOU! We are thankful you've partnered with us so we can offer HOPE to these precious women and children. And we are thankful God is able and willing to work miracles in the midst of the impossible crises they face.
Remember there is always a place to serve at Hope Women's Center! If you haven't been to one of our centers in awhile, please join us for one of our monthly Journeys of Hope held on rotating Thursdays from 
9am-10am
 at each center. 
See our schedule here
. These are great events to see a center in action and learn more about how you can be involved!